Negotiating Your Contract
When the negotiation is complete, it's very difficult to go back and try to renegotiate terms that have already been agreed upon.  We recommend that you communicate effectively during this process.  In the event the terms are not agreeable, you need to decide if you are willing to walk away from the opportunity.
What items are open for negotiation in my contract offer?
In some agreements, none of the terms are negotiable and in other agreements some of the terms of the agreement may be negotiable, including salary, sign-on bonus and start date.  Other terms that may be negotiable are vacation time, relocation package and type of compensation structure.
How do I recognize if something is or isn't open to negotiation?
One of the conditions on whether terms of the agreement are negotiable is the market. The more in-demand the position is the more likelihood for flexibility.  Additionally, the geographic market ma also play a significant role in whether there is room for negotiation.  Opportunities in the Midwest tend to be more negotiable than opportunities in the Northeast.  Mainly, negotiations depend on supply and demand-the higher the demand the more likely it is the opportunity is negotiable.  Furthermore, rural markets tend to be more negotiable than metro markets.
Additionally, flexibility increases as income potential rises.  This may depend on the payor mix and the collections on billable dollars, as well as organizations that are more profitable than others –
resulting in organizations minimizing expenses and maximizing revenue.
I don't feel I'm a good negotiator.  What should I do?
Recruiting firms can be helpful in negotiating agreements; however, you are ultimately the one responsible for determining the ideal position for work-life balance.  Below are some tips:

Know Your Market
Is your field in-demand?

Is your region in-demand?
Is your community in-demand?
What are other similar opportunities in similar communities paying?
Make sure to compare apples with apples
Know When You Are Ready
Under what circumstances would you accept the opportunity?
If you cannot answer this question, we recommend NOT negotiating!
If you are ready, make sure you are prepared to accept the opportunity if the organization agrees to your terms.
Know Your Limits
Are the terms you are trying to negotiate reasonable?
You can continue to read more about how to negotiate your contract by following this link
 https://physiciancareerplanning.com/ebooks/career-and-life-planning-guidebook-for-medical-residents/285/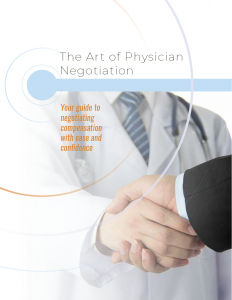 ________________
About Author:
Todd Skertich is the Founder of Adventures in Medicine (AIM), an innovative online media platform designed to present medical residents and job-seeking physicians with high quality career and life planning content and resources.
Also, Todd is the founder and managing partner of Arlington HealthCare (AHC), a physician placement firm.  To date he has facilitated more than 2,000 permanent physician placements and helped negotiate over $600,000,000 in physician starting compensation.