Understanding Employment Terms and Conditions
It's a good idea to familiarize yourself with common terminology found in an employment contract. Knowledge of employment contracts enables you to:
Become familiar with the different sections of a contract
Interact with a potential employer as well as an attorney with more knowledge
Focus on matters most important to you
Minimize the time to review and sign a contract
Be more self-assured and confident (not arrogant) when interacting with a potential employer and your attorney
Be more professional and business-savvy
Both parties benefit from solidifying employment contracts because they can clearly set forth material rights and obligations, thereby managing risk of the matters addressed. Below are common terms and terminology, in layman's terms, you may find in your employment agreement.
Parties:

When you enter into an employment agreement, you will be one of the parties and your employer and possibly other affiliates of your employer will also be parties.
Start Date:
Your start date is when you agree to begin work. You will need to satisfy all conditions of employment prior to the start date unless otherwise provided in the agreement, so make sure you have enough time for what you need to do, including obtaining licensure, hospital credentials, and acceptance of insurance carriers.
Length of Term:
The specified beginning and ending dates of the contract along with any provisions describing the renewal or extension of the contract term.
The length of a physician employment agreement often ranges from one to three years. A contract provision that automatically extends the term of the agreement for a specified additional period is sometimes referred to as an "evergreen clause". Key issues to keep in mind for contract length include understanding:
Repayment obligations for any forgivable loan, including signing bonus, loan repayment and relocation. You may have to pay back a bonus on a prorated basis if you leave prior to the end of the initial term of the agreement.
Base salary may be paid during an initial period of time and, thereafter, compensation may be based solely on production-based compensation, again, if applicable.
Eligibility for partnership or equity ownership, which may coincide with the end of your initial contract period, if applicable.
Board Certification Timeline:
You must know how long it will take to become board certified and make sure your agreement provides plenty of time for achieving board certification and outlines recertification requirements if that is a requirement of your agreement.
Practice Location(s):
Addresses basic practice needs such as office space, examination rooms, equipment, and support staff. You can ask to include a specific provision for the location(s) where you will provide services to eliminate the risk of being required to work in a different and possibly unduly distant location. The employer may or may not agree.
Duties:
The contract should summarize your responsibilities in reasonable detail.
Call Coverage:
Call coverage should also be covered in your agreement. Whether hospital call or home call, details such as frequency and permitted distance from the hospital for home call will be set forth. You should attempt to negotiate these call coverage details if you require different provisions than are initially proposed.
You can continue to read more about employment law by following this link
https://physiciancareerplanning.com/ebooks/career-and-life-planning-guidebook-for-medical-residents/309/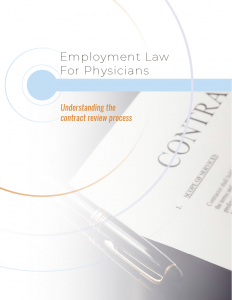 _______
About Author:
Mark R. Raymond, Attorney and Partner at MPSLAW
Mark has extensive experience with business and corporate legal transactions of all types, including benefit and compensation law, buy-sell, employment services, and other legal agreements.  Mark leads the firm's employee benefits and executive compensation practice.