Physician Burnout: Find Your Balance 
When entering a stressful and demanding career it's important for individuals to maintain their mental and physical health as they strive for a balance between their professional and personal life. There were times when I felt so defeated and worn-out by my job that I doubted my abilities as a physician. In retrospect, I understand that I was experiencing burnout and that I simply didn't have the resources to work through it properly. Luckily, there is a multitude of strategies that can be integrated into your life to prevent and resolve this! 
Burnout is a phenomenon that manifests when one is being overworked without receiving downtime for family, hobbies, or mental rest. Most physicians will experience it at some point in their career, so it is crucial to understand how to deal with it. Burnout can have detrimental consequences within the personal life of a medical professional, their family, and employer but can be resolved if the individual moves forward with intentionality.  The life of a physician is hard but the fruit is worth the labor of the harvest, so I encourage you to put forth the effort it takes to defeat burnout.  
Leading Causes of Physician Burnout: 
Work overload including increased intensity and time spent at the workplace,

 

Stress caused by

 copious amounts of student debt and other financial pressure,

 

Lack of trust and cohesion within the work environment,

 

Feeling under-appreciated for your diligence and accomplishments,

 

Feeling alone, isolated, and unsupported by colleagues and peers,

 

Negle

cting self-care, family, and mental health for the sake of work,

 
 Chapter Author of Career and Life Planning Guidebook for Medical Residents, Shawn C. Jones, MD asserts that "over half of all physicians suffer from burnout, which is characterized by depersonalization, loss of enthusiasm for the profession, and cynicism." You've worked so hard to become a doctor, but your success is in vain if you are too exhausted to enjoy the life that you've created for yourself. As a physician, you cannot allow your job to deprive you of the fulfillment and joy that life has to offer- it is simply not worth it. 
 Consequences for Hospitals:  
Dissatisfied patients and low ratings

 

More physicians choosing to leave the field

 

A decrease in engagement and poor teamwork

 

An incr

ease in errors which equals more malpractice suits

 
Consequences for Individuals: 
Substance abuse

 

Deteriorated mental health

 

Suicide or suicidal thoughts

 

Friction and conflict in relationship and marriages

 

Leaving the field and seeking other employment

 
Fortunately, there's an abundance of strategies to help both employers and physicians avoid these consequences. If you feel burnt-out you're probably moving too fast, so slow down, evaluate your priorities, and be patient with yourself. Sometimes we need to relish the simple moments in life and just breathe! 
How to Prevent and Resolve Burnout: 
For Employers: 
Ensure physicians have adequate access to mental health resources.

 

Practice regular check-ins with em

ployees.  

 

Place importance on employee satisfaction and self-care.

 

Address workplace satisfaction and employee concerns.

 

Provide frequent recognition and appreciation for physicians who are positively impacting patients

 
For Physicians: 
Reevaluate your p

riorities and self-reflect.

 

Discover what hobbies and pastimes make you happy and designate time to do them.

 
Maintain your physical health by getting plenty of sleep and exercising regularly.

 

Prioritize your personal life in addition to your work/life to create a healthy balance.

 

Switch things up- go on adventures and be spontaneous when you get the opportunity. 

 

Be present in your day-to-day life and take notice of the meaningful aspects of yo

ur job. 

 

Remind yourself of what made you want to become a doctor.

 

Don't over commit and learn to say no.

 

Practice gratitude constantly and celebrate small victories!

 
Physicians enter the workforce with the intent to help people and make a difference and these greater goals can be lost under the weight of imbalance between work life and personal life. Physicians Burnout can leave you unmotivated, so remember our job is meaningful and your work changes lives. However, it is possible to work too hard and you have a right to relax and savor the small moments in life. At the end of the day, you became a doctor to create a good life for you and your family, so remember to enjoy it!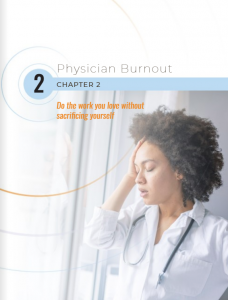 Todd Skertich is managing partner, Arlington Healthcare and founder, Adventures in Medicine and Physician Career Planning.  He is the author of The Art of Physician Negotiation and can be reached on LinkedIn at https://www.linkedin.com/in/toddskertich/.